Stop Procrastinating
Have you ever thought "I must be the only one who procrastinates like this?"… Well, we have news for you - you're not alone. Did you know that one in five people have a chronic procrastination problem? Did you also know that a great majority of the population want to overcome their procrastinating tendencies?
You know that procrastination can have serious consequences. Missed deadlines can hurt your reputation, prevent you from getting promoted, or even damage the reputation of your organization. Additionally, getting in just-under-the-wire could put unnecessary pressure on your co-workers.
Ignoring a dead lightbulb for days on end isn't necessarily a big deal at home. However, if you keep putting off repairs and other chores you have promised to do, that can erode the trust of loved ones. In addition to feeling constant pressure, chronic procrastination can also trigger anxiety and stress.
If you've tried to stop procrastinating in the past, you know—it's not easy.Good intentions can be sabotaged by distractions, perfectionism, overbooked schedules, a fear of messing up, or just distaste for the job.
And if you've already been procrastinating on your project, new distractions amplify the guilt and frustration. They quash momentum and slow progress to a death crawl.
You might be surprised to learn, however, that our brains are actually designed for distraction.
Procrastination has ancient origins.
Our brains evolved to zero in on "clear and present danger" via the well-known fight-or-flight response to a threat. But in the absence of an immediate physical threat to our lives, our brains are easily distracted. That's why when you sit down to do your taxes, your attention wanders with every passing noise, thought, or physical sensation.
But don't despair, there is a way out.
Once you're aware of this tendency, you can learn how to overcome distractions, so you can stay on track to meet your goals and most importantly, relieve that horrible burden that you've been living with.
The key to getting things done isn't waiting for motivation to magically strike at the 11th hour before the next deadline. It's knowing how to safeguard against distraction.
It may sound too good to be true but it's not..
Studies also show that procrastination stems from our unrealistic expectations about a task. We tend to be either overly optimistic ("I have plenty of time! What could possibly go wrong?") or defeatist ("I'll never get it right, so why try?").
You're better equipped to overcome ever-present distractions when you balance optimism with pessimism, since optimism aids you in starting a task and pessimism assists in staying focused.
Thus, by balancing your motivation with a splash of pessimism, you can accomplish goals and realize your dreams.
Once you learn how to balance your motivation with your pessimism, instead of feeling the constant stress, guilt and frustration of not being prepared for a deadline…or the embarrassment and consequences of actually missing a deadline…You can start tasks and projects with greater ease and motivation and keep your momentum going right through to completion.
Can you imagine freeing up energy and having more fun with your friends and family? Having more time to read, garden or exercise. Imagine having the bandwidth to pursue your big life goals. Imagine, feeling relaxed and enjoying your life more!
The good news is that with the right tools and techniques, you can stop distractions, energize your motivation, and triumph over procrastination.
In this course you'll learn the entire, step-by-step process for overcoming procrastination at work or at home, making the most of your time and energy, and maintaining steady momentum on your tasks and projects.
The course is relatively short -- just four power-packed lessons! -- which means that before you know it, you'll be better equipped to start projects right away, stay on task, and accomplish your goals and dreams.
Overcoming procrastination doesn't have to be hard to learn. It doesn't have to take a lot of time. And this course shows you the way.
In Stop Procrastinating, you'll discover:
When faced with a new project, do you procrastinate? Not anymore! Discover 4 ninja moves you can use to take action right away and stay on task. (You'll be saying "

Wow, this was easier than I thought!

")

How does celebration relate to procrastination? Everything! Discover how to harness this powerful energy source to keep your progress high and your eyes on the prize...right through to completion

Overbooked to the point that you're procrastinating? Here's a simple litmus test to help you determine if your goal is worth pursuing.
The best tools for warding off impulsive distractions, so you can stay focused and feel inspired and empowered whenever you pick up a project.
Are you annoyed by the fact that you procrastinate even though you know it makes life harder for you? Grab this "map" for a clean breakaway. (Hint: It helps you root WHY you procrastinate to begin with.)
How to harness NLP (Neuro-Linguistic Programming) to enhance your focus, solve problems, think more creatively and boost motivation. (Especially helpful if you have ADD or similar brain wiring!)
Does the environment you work in reinforce your procrastination mindset and undermine your productivity? Here's how to tell…and the

 

real-world

 

approach to eliminating distractions that squander your time and energy.

And much more…
In Stop Procrastinating, you'll learn the science-backed secrets to balance the optimism needed to start a task with a healthy touch of pessimism to stay on task.
Doing so will equip you to overcome ever-present distractions, and raise your rate of success for completing whatever you undertake!
Module 1: Understanding Self-Efficacy

Explore the power of self-efficacy - your belief in mastering tasks and achieving goals, shaping your approach to challenges. Discover how high self-efficacy enhances motivation, resilience, and problem-solving, influencing success across various life domains.

Module 2: The 4 Major Influences

In this module we unravel the pivotal sources shaping self-efficacy. Explore how mastery experiences, vicarious experiences, verbal persuasion, and emotional/physiological states significantly influence and mold our belief in our capabilities, affecting our approach to challenges and overall success.

Module 3: Tips for Boosting Self-Efficacy

This is your guide to six practical strategies aimed at enhancing self-efficacy. Explore actionable tips, from setting practice, practice, practice to trying new things and fostering a positive mindset to name a few. These tips empower you to immediately begin to boost your confidence and approach challenges with renewed assurance.

Module 4: Resources

Download a comprehensive summary of this course. Additionally, access an enriching article as a valuable resource offering further guidance on elevating self-efficacy for continued personal growth and success.

Module 5: Conclusion & Next Steps

We encapsulate the core lessons learned, empowering you to apply these insights in your daily life. Discover how to get started on taking proactive next steps, setting the foundation for continued personal growth and success based on enhanced self-efficacy.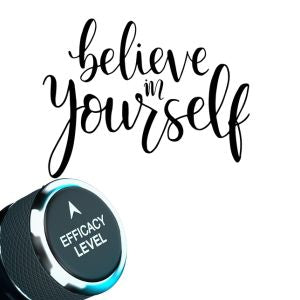 Remember, each module in this micro-course features practical exercises designed to help you implement the strategies, allowing you to construct a personalized roadmap for enhancing your self-efficacy and tackling challenges. The course equips you with essential knowledge to overcome self-doubt, improve resilience, and boost confidence, enabling you to achieve your aspirations and create your path to success.
Return to Personal Development & Wellness e-Library