(The) Path to Peaceful Work
Like most people, you want your job to make you happy! Most of us want to feel energized and to be engaged in our work..To feel valued and supported by management and colleagues…To have opportunities to progress in your career…To have flexibility that allows for greater balance with other life needs and pursuits?
Sounds amazing, right?
But the reality is…
For all too many, Monday morning dawns with a touch of the blues or even downright anguish.
It can be stressful to move from two days of freedom to bracing for another workweek. Especially if your job is overly-demanding or unsatisfying.
Deficiencies in autonomy, dignity, opportunities for advancement, fair pay, health care benefits, job security, and more all contribute to feelings of frustration and disappointment.
Now layer on everyday obstacles and setbacks...Fold in office politics and gossip…Add a dash of endless, unrealistic workloads…And it's no wonder people are unhappy at work.
Unfortunately, there's a cost to all this stress.
Unmitigated stress at work can erode your confidence, your health, your relationships, and your capacity to accomplish objectives as well as your dreams and goals. Over the many years or decades you work, that can add up to an unhappy, unfulfilled life of regret. But it doesn't have to be this way.
Positive stress can be good but negative stress is another thing. While no job is stress-free—even a dream job has its challenges and setbacks.
What makes the biggest difference between feeling frustrated or happy at work is how you respond to stressful situations.
It's Not Swallowing Your Frustration or Putting Up With Disappointment That Will Make You Successful at Work... It's Adding Mindfulness to Your Work Routine
Wild, we know. It sounds almost too good to be true.
Yet, studies show that mindfulness reinforces your caoacity to be peaceful and focused at work. To be resilient and move forward towards your goals—with ANY job you take.
The brain is able to achieve what is known as a " toward state" when mindfulness is practiced. In this state, we feel open-minded, curious, and interested in what we are doing. Knowing how to tap this powerful "toward state" helps us thrive in the workplace!
Meaning? In order to feel happier at work, you simply need to cultivate a daily mindfulness practice. That's it!
With a daily mindfulness practice, you:
Feel calm and energized through the ebb and flow of stress and change.

Will will contribute meaningfully and aim for a positive impact.

Will one day look back on your career and think "

that was time well spent

."
This can be possible for you when you know how to embrace mindfulness at work!
No doubt the question that you're asking is…How exactly does one create a doable, fun mindfulness practice and use it to improve your work life?
Mindfulness doesn't have to be hard to learn. It doesn't have to take a lot of time. And this course shows you the way.
In this course, you'll discover the entire, step-by-step process you need to cultivate an enduring mindfulness practice at work. One that mitigates stress, boosts your effectiveness, and improves your communication and leadership skills, so you can feel more relaxed, more fulfilled, and more in control of your day.
In The Path to Peaceful Work, you'll also discover:
Discover the 5 Keys to Creating Happiness at Work, so you can feel peaceful every day…no matter what your boss or coworkers do.

How to boost your creativity, focus, and perseverance using the "towards state," a proven strategy in neuroscience studies.

An old-as-time, scientifically-proven strategy that releases stress and retrains your brain to strengthen your decision-making, memory, and emotional flexibility at work. (And it takes just minutes a day!)
If your work days feel rushed and pressured, use this simple 4-step strategy to enjoy a more relaxed, harmonious relationship with time.
Obstacles and setbacks are inevitable on the job, so grab this Anti-Burnout Blueprint to take an "emotional vacation" after a hard day's work.
Do you believe your employer is responsible for your happiness at work? Think again! Here's why this common misperception undermines your sense of fulfillment and what to do instead.
STOP! Before you blurt out what's on your mind, implement this 3-Step Communication Formula to build trust, diffuse tension, and promote peace in the workplace. (Works great at home too!)
Want to be more effective at your job, communicate true caring and enhance the well-being of your organization? Cultivating a compassionate leadership style is the answer. Here's how to do it—even if you're not the boss!
And much more…
In Work Happier: Relieve Stress, Stay Calm & Be More Effective, you'll learn the secrets proven by top scientists that show that mindfulness at work relieves stress, promotes happiness, balance, and peace of mind, and leads to a greater sense of balance, resilience, and meaning.
Plus, you'll begin to discover as you progress with your practice, that mindfulness is having a positive impact on other areas of your life in addition to your primary goals. A natural effect of mindfulness' beneficial power!
The course is relatively short -- just seven power-packed lessons! -- which means you'll quickly have an incredible new capacity to feel happier and calmer in your workplace, no matter what's going on around you.
Lesson 1: The 5 Key Elements to a Peaceful Path at Work

If you want to be happier, calmer, and more effective at work—despite the stress and challenges—discover why mindfulness is your greatest ally! Lesson 1 reveals why you're not alone if you're unhappy at work and the toll it takes. And unlocks the key elements that foster a peaceful path to work.

Lesson 2: The Search for Life Balance

Time to dig deeper and identify what's actually stressing you out at work. Then explore how meditation helps you manage stress, improve focus, and even reignite positive feelings about your job! Plus learn some simple practices that can boost harmony and balance in your work life.

Lesson 3: Resilience in the Workplace

Bouncing back when work-related roadblocks and setbacks beset you requires resilience. In this lesson, discover how self-care fends off depression, anger and other exhausting feelings. And find out why patience and flexibility are your best friends when it comes to calming your mind and spirits.

Lesson 4: Finding Meaning in Work

Finding meaning in what you do is an essential ingredient to happiness at work—especially when you don't love your job. That's why Lesson 4 helps you uncover new sources of inspiration, to help you manage negative emotions, and align your thoughts and feelings with your true power and purpose in the world.

Lesson 5: Mindful Communication

Skillfully communicating and relating with your boss and colleagues is essential for peace in the workplace! Even if your work culture tolerates an insensitive, cynical, or toxic tone, you can equip yourself with practical tools and strategies to guard your energy and relate to others in a productive manner.

Lesson 6: The Art of Mindful Leadership

In Lesson 6, discover the secrets of mindful leadership that ensure loyalty, productivity, and higher performance in the workplace. Plus, learn practical steps to hone this essential skill that lead to profound, positive changes in your self-awareness, work life, and, ultimately, your organization as a whole.

Lesson 7: Recap and Review

Time to reflect on all the lessons and practices you've explored and practiced throughout The Peaceful Path to Work! Plus, this is your opportunity to choose the best methods for YOUR mindfulness practice, so you can incorporate mindfulness at work and reap the benefits for years to come.

Each lesson contains targeted activities to help you apply the concepts, so you can create a personalized map for navigating through your work day... using mindfulness as your guide.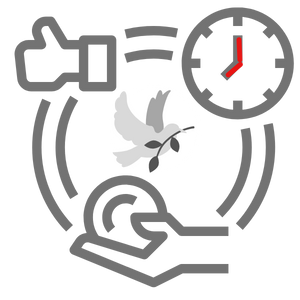 You will find everything you need to know in The Path to Peaceful Work to say goodbye to rough, stressful work days that drain your energy and enthusiasm, and say hello to greater peace and happiness at work.
Return to Personal Development & Wellness e-Library